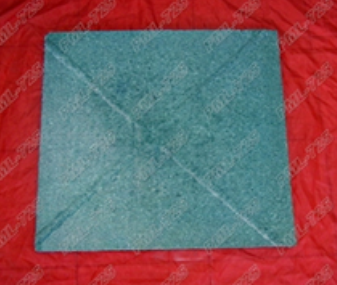 The purpose of this new product is to provide a good and sound-absorbing metal group set up sound-absorbing panels quickly.
The new product has the following advantages:
1, via the new composite metal acoustic panels, independent of the metal due to its body, so the group set up quite easily and quickly.
2, the new composite through-hole metal acoustic panels, because of its bottom and top notch set are distributed in a plurality of cones, and the upper and lower cones of the cone at the end by a tiny oval-shaped hole connected, which, wave type and point will not only reflect a small protrusion of the sound waves collide with each other and produce interference attenuation at the same time, even if part of the sound waves will penetrate the cones, conical bottom of the oval-shaped micro-holes, can also cause loss of sound waves penetrate to a better acoustic effect.
3, the product size can be 1.2 meters wide, the length limitation. Look beautiful, beautiful. Surface of the product can be suppressed in a beautiful three-dimensional pattern, so as to enhance strength and play a board visual beauty will not stay like traditional blinds, as adjusted, the color selected by the industry itself, electrostatic spraying can be colored or color oxidation treatment.
4, the new sound-absorbing composite through-hole perforated plate does not like the traditional sound-absorbing panels need to fill fibrous sound-absorbing material, the formation of secondary pollution, and traditional products is also bad weather, a long time will affect the sound absorption performance. New products can be only a layer of panels, so that truly green products, and acoustic performance is not a permanent recession.